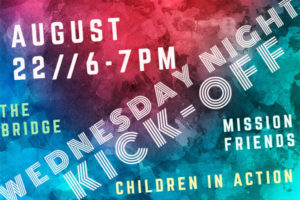 Upcoming Dates:
Summer Wednesday nights
Gym opens at 5:30 pm; classes for all kids

"Cloud of Witnesses" class in upstairs children's church room 1st-5th

Stories of Grace—4K-5K
August 19: Children's Church will meet for the whole service during both early and late service (4k-4th Grade). During morning worships a creation scientist will share. Parents can decide if they want their children to attend worship or children's church. Children not attending worship should be dropped off in the children's church room upstairs. 5th-6th grades will not have Sunday School in order that they may attend the dinosaur talk in the sanctuary. Other kids are welcome to attend the talk as well, but Sunday School will be available as an option.